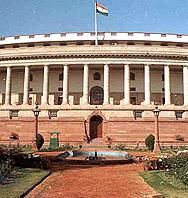 A faux pas by Treasury benches during the voting on the ordinance on food security held up proceedings of Rajya Sabha for some time.
The problem began when Chairman Hamid Ansari called for a voice vote on statutory resolution moved by leader of the opposition Arun Jaitley disapproving of the ordinance on the Food Security issued on July 5.
Members from the Treasury benches who were supposed to say 'nos' inadvertently said 'ayes'. However, they immediately realised their mistake and said a resounding no, when the Chair again put the question to them.
However, deputy leader of the Bharatiya Janata Party in Rajya Sabha Ravi Shankar Prasad said that since members from both Treasury as well as the Opposition benches have already said 'ayes' during the voice vote, the Opposition resolution that seeks to disapprove the ordinance got the majority.
At this, Ansari said that the only solution to the situation is to seek a division.
Minister of State for Parliamentary Affairs Rajeev Shukla said members from Treasury benches did not say ayes but if the opposition insists, then the only solution is division of votes. Further delay was caused due to technical snags in the electronic voting system in the House when the division began. Voting was done once again because of the technical glitch.
Finally after two attempts the resolution was negated by 118 votes against and 92 in favour.