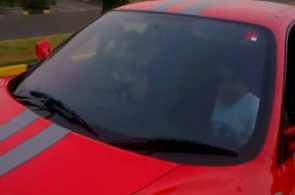 The father of a nine year-old boy, who drove a Ferrari F 430 recently with his five-year-brother along side, causing widespread outrage, was arrested on Monday and released on bail.
Police sources said Mohd Nisham was arrested by the Peramangalam police in Thrissur, which is investigating the case. He came with the vehicle and was arrested. Since it was a bailable offence, he was granted bail on furnishing two surities of Rs 5000 each, the officer investigating the case told PTI.
The Ferrari was seized by police and returned to the owner with the direction to produce it in court whenever ordered.
Mohammed Nisham had been booked by police under Section 23 of the Juvenile Justice Act for encouraging underage driving and Motor Vehicles Act for allowing an unlicensed child drive the vehicle after the Youtube video (external link) of his son's feet went viral, causing widespread outrage.
The police had summoned Nisham two days ago to explain about allowing his minor son drive the heavy-powered Italian Ferrari.
According to the police, the boy drove the vehicle on a private road. Hisham had told the police it was his son's birthday and the child wanted to drive the car and permission was granted, as he knew there would be no accident.

Image: Video grab of 9-year-old driving the Ferrari F 430