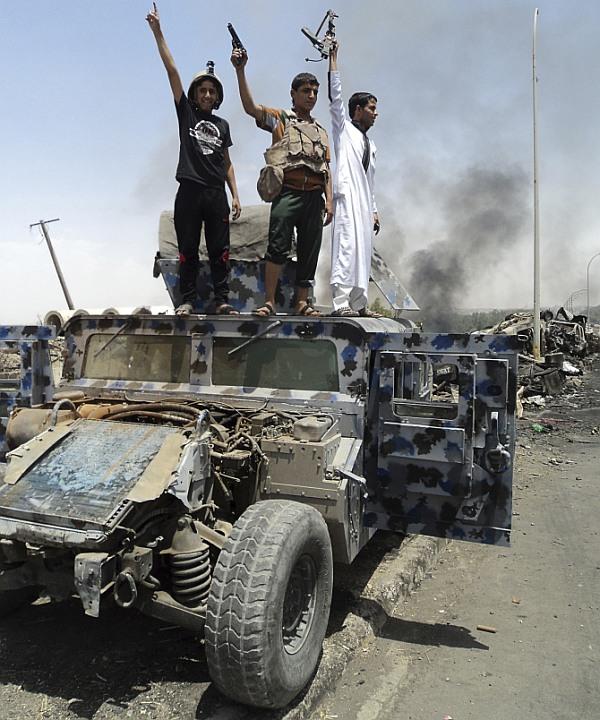 The uncle of the missing youth, who is suspected to be in Iraq fighting for the ISIS, denies that Arif Majeed wrote the alleged letter expressing his disillusionment with his family and his wish to migrate to 'Allah's land'. Prasanna Zore/Rediff.com reports from Kalyan.
Zaheer Majeed, the uncle of Arif Majeed, one of the four young men from Kalyan who are suspected to be in Iraq or Syria fighting for the Islamic State of Iraq and Syria, told Rediff.com a day after Eid that his nephew had not written the letter that expressed his disillusionment with the way his family lived and his wish to fight for the cause of Islam.
Media reports had claimed that Arif had written such a letter, citing sources investigating the matter.
"Our son did not write that letter. It could have been written by one of the others," Zaheer Majeed said in his nephew's defence.
When asked if the police knew about this, and if this denial came on behalf of Dr Ejaj Majeed, Arif's father, Zaheer Majeed refused to comment.
He was referring to a letter allegedly written by Arif informing his family that he had chosen to migrate to 'Allah's land'.
An agitated Dr Ejaj Majeed refused to comment on his missing son. "For me the chapter is closed. Go to the Bazarpeth police station in Kalyan if you have any queries. I have told them whatever they wanted to know," Dr Majeed said.
Both Dr Majeed and Zaheer Majeed said the family did not receive a phone call from their son on the occasion of Eid on July 29. "The last we heard from Arif was in May when he told us that he was in Iraq for some work."
Dr Majeed requested that the media should not harass the family about his son's whereabouts.
Police Inspector S N Jadhav, who helped Dr Majeed lodge a missing complaint for his son on May 16, refused to comment on the issue, saying he had returned to duty after a month's leave and the investigation was handled by Police Inspector S K Jadhav in his absence.
Police Inspector S K Jadhav refused to confirm or deny Zaheer Majeed's comments.
"Whatever we have to discuss with the media about this case is out there. We have nothing new to say," Police Inspector S K Jadhav told this correspondent at the Bazarpeth police station when asked about Zaheer Majeed's denial about Arif's letter.
Arif, Zaheer Majeed said, was a brilliant student in Class 10 (he scored 93 per cent, his uncle vaguely remembers) and 12, had completed his diploma in civil engineering from a "Christian college in Vashi (he did not remember the name) and his degree from Kalsekar College in Kalyan," had never shown any attraction or inclination to fight for ISIS or any jihadi tendencies.
"The family is in a state of shock," Zaheer Majeed said when asked about the mood in the Majeed household. "What can you expect of a family whose son is missing for more than two months now and there are all kinds of stories floating about him?"
Since the issue relates to the ISIS, Zaheer Majeed said the family had been questioned by the Anti-Terror Squad, the National Intelligence Agency and the Intelligence Bureau on an as per need basis.
"Whenever they -- the ATS, NIA and IB -- come, the family extends their full cooperation," he said, after Dr Majeed shut his dispensary at Kalyan's Ansari Chowk.
Earlier, a senior police officer from the Bazarpeth police station had discouraged this correspondent from visiting the families of those missing from Kalyan and alleged to be fighting for the ISIS.
"On Eid there was some tension as reporters went and met with the family of two of the missing boys. There were some heated arguments, but nothing serious," this police officer said, requesting his name not be mentioned as he is not authorised to speak with the media.
Police Inspectors S K Jadhav and S N Jadhav denied that such an event occurred on Eid.
When this correspondent visited the Majeed family, a girl in her early 20s said Dr Majeed was not home. "He might be at the dispensary," she said.
At his dispensary, Dr Majeed was busy in a conversation with Zaheer Majeed and a friend. When asked if Arif had called the family on Eid, Dr Majeed, trying to contain his irritation, stepped out of his dispensary, saying he has nothing to say about his son.
In the absence of any conclusive finding about these missing youth from Kalyan, and as the "media speculates irresponsibly" a new narrative is emerging in the city: The families of the four boys are in no mood to expose themselves to intense media scrutiny.
"Already, we have a number of investigating agencies visiting us and asking all sorts of questions. On top of that the media writes whatever pleases them on the basis of speculation, in an irresponsible manner," Zaheer Majeed said.
The same mood, he added, prevails at the homes of the other three boys.
"What else can we hapless people do unless something concrete emerges from the investigations?" he asked.