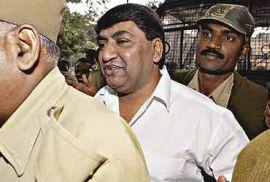 A Delhi court on Tuesday upheld Abdul Karim Telgi's seven-year imprisonment in the multi-crore fake stamp paper scam.

Additional Sessions Judge (ASJ) T S Kashyap dismissed the appeal of stamp scam kingpin Telgi, who is a HIV/AIDS patient and currently lodged at a Bengaluru jail, challenging the trial court judgment sentencing him to seven-year in jail and imposing Rs 25 lakh in fine.

Telgi had filed the appeal pleading to reduce the fine amount imposed by the trial court and also that the sentence undergone by him in the jail be considered.

He submitted that he has been suffering from various health complications including AIDS and needs extra care and medication, and disparity in sentence would cause injustice to his family members.

The sessions court, however, dismissed his plea saying there was no merits in his appeal and keeping in view the nature and gravity of offences, the one-year imprisonment handed to him for default of payment of fine is also not "disproportionate".

The prosecution case was that Telgi along with other co- accused Abdul Gafoor Mujahid, Anand G Thorat, Sachin Munna and Ashfaq had floated a company, M/S Prime Services, located at Nehru Place here during 1997-98 for unauthorisedly trading and selling counterfeit stamps or non-judicial stamps in various parts of Delhi and adjoining areas.

The accused had caused huge loss to the state exchequer by selling the counterfeit stamp papers, it had said.

ASJ Kashyap refused to reduce the fine amount saying, "The trial court has considered facts and circumstances as it was a case of huge financial scam involving forged stamp papers causing loss to Indian economy and therefore, fine imposed by the trial court cannot be said to be excessive."

Telgi was held guilty under Sections 420 (cheating), 258 (sale of counterfeit government stamp), 259 (having possession of counterfeit government stamp), 260 (using as genuine a government stamp known to be a counterfeit) and 120 B (criminal conspiracy) of the IPC.

The trial court had imposed a fine of Rs five lakh on each offence committed by him.

The sessions court also said Telgi's contention that the trial court had not considered his ill-health while awarding him the jail sentence was contrary to the records.

"...because in the order (of trial court) on sentence itself, it has been specifically mentions that the convict was not awarded rigorous imprisonment keeping in view his physical health condition," the ASJ said.

"There is no gainsaying that in case of conviction in any criminal case, convict has to suffer imprisonment and in turn his family members also have to bear the consequences," the judge added.