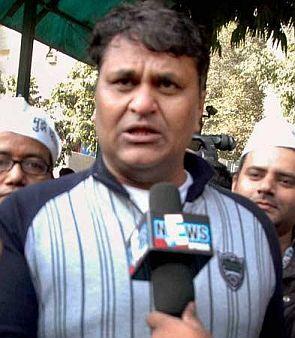 Claiming the support of at least five legislators, expelled Aam Aadmi Party Member of Legislative Assembly Vinod Kumar Binny has threatened to pull down the Arvind Kejriwal-led government if his demands were not met within 48 hours.
Flanked by Janata Dal - United MLA Shoaib Iqbal and Independent legislator Rambir Shokeen, Binny said, "I, along with Shoaib Iqbal and Rambir, will meet Lieutenant Governor Najeeb Jung and withdraw support if our demands are not met in 48 hours."
Addressing a press conference in Delhi, Binny said he would also form a political front with two other AAP MLAs, who are in touch with him, along with municipal councilors.
Binny, who has been expelled for "indiscipline" by the AAP, has put forth a series of demands before the Delhi government which include the fulfillment of promises made by the party before the assembly polls.
He also asked the government to sort out the issues related to power and water sector. He demanded that government should give subsidy on 8 per cent increase in power surcharge.
"The government should form special women squads as promised to prioritise security of women. Instead of charging people for the entire 700 litre of water after exceeding the limit, the government should charge only for water consumed over 700 liter," he said.
Reminding the AAP government of its promise of waiving the "inflated" power bills of over one lakh people, Binny said, "The government should waive off their dues first."