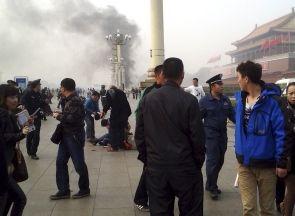 A disgruntled ex-convict, arrested for the recent serial bomb blasts targeting China's ruling Communist Party's provincial headquarters in Taiyuan, carried out the attack to "take revenge on society", police said on Friday.
Feng Zhijun, a 41-year-old resident of Taiyuan, was arrested today from northern Shanxi province.
He admitted to having intentionally committed the crime in order to "take revenge on society", local police said, backing speculation that the blasts were carried out by a disgruntled individual.
Feng also confessed all details of his crime, police said without disclosing what exactly his grievance that made him to resort to the violent act.
State-run CCTV showed a group of policemen handcuffing Feng.
One person was killed and eight others injured in the eight blasts in front of the office building of the Shanxi Provincial Committee of the Communist Party of China in Taiyuan on November 6.
Police found self-made bombs in Feng's residence and seized a vehicle which they believe was used by him, state-run news agency Xinhua reported.
Feng had previously served nine years in prison for theft, police said.
The incident appeared to be a part of growing social unrest took place head of a key meeting of top leaders of the party here from tomorrow to discuss new set of reforms amid rising concerns over increasing gap between rich and poor.
Feng's arrests however sets at rest earlier speculation that the blasts were carried out by Islamic militants from the restive Xinjiang province. The attack took place close on the heels of the October 28 car crash at Tiananmen square in which five persons were killed and 40 others injured.
In 2011, a farmer from Shanxi who was aggrieved over the demolition of his property detonated three self-made bombs in front of Communist Party offices in Fuzhou in southern Jiangxi province. Two persons were killed in that incident.
A man, who became paralysed by police brutality, set off an explosive device at the Beijing airport in July to highlight his plight.
Earlier, another disgruntled man set himself afire in Xiamen city, killing himself and 46 others. China also witnessed numerous knife attacks by disgruntled people.