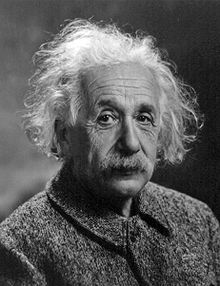 A handwritten letter in which Albert Einstein questioned the existence of God is going up for sale online, with bids starting at $3 million (Rs 15.6 crore).
The 'God letter', which the physicist wrote in German a year before his death in 1955, includes his thoughts on religion, God and tribalism.
Einstein wrote the letter on Princeton University letterhead to philosopher Erik Gutkind after he read Gutkind's book
Choose Life: The Biblical Call to Revolt
, the
Fox News
reported.
"...The word God is for me nothing more than the expression and product of human weaknesses, the Bible a collection of honourable, but still primitive legends which are nevertheless pretty childish. No interpretation, no matter how subtle, can (for me) change this," wrote Einstein, who won the Nobel Prize in Physics in 1921.
The letter has been stored in a temperature-controlled vault since it was last sold for $404,000 (Rs 2.09 crore).
The buyer at the time is now selling it with the original envelope, stamp and postmark on eBay.
Eric Gazin, president of Los Angeles-based Auction Cause, which will handle the sale on eBay, said the letter could fetch as much as triple the opening bid threshold.
"Few people have had access to the thoughts and uncensored opinions of this brilliant mind as it relates to his personal views on God and religion," Gazin said.
Einstein experts believe the letter supports the argument that the physicist held complex, agnostic views on religion. He rejected organised faith but often spoke of a spiritual force at work in the universe.