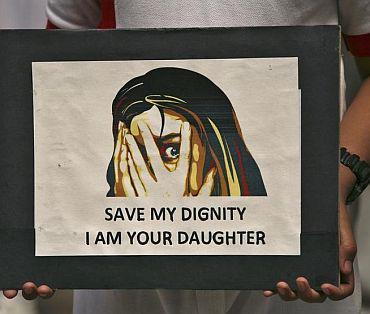 An eight-year-old girl was allegedly raped by two minors causing her grievous injuries in Sarai Madan village in Allahabad.
The incident occurred on Tuesday in Sarai Madan village in the district;s trans-Ganga region, Station House Officer Abdul Sattar said. He said that the girl studied in Class V at a local primary school while the accused were students of a junior high school situated nearby.
The alleged perpetrators had gagged the girl when she screamed for help. They dumped her in a nearby field when she began to bleed profusely. The girl was spotted by her father who happened to pass by.
A case was registered while the victim was shifted to a hospital as her condition deteriorated considerably. Meanwhile, the girl's parents alleged that the SHO had initially tried to hush up the case and that the matter was registered only after they had spent nearly nine hours inside the police station demanding that an FIR be lodged.
Assistant Superintendent of Police (Crime) Arun Pandey said the parents' complaint would be looked into and action would be taken if the allegations were found to be true. Meanwhile, a search is on for the two culprits.