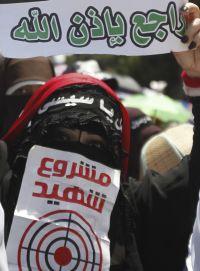 A 10-member panel to amend Egypt's Constitution met for the first time on Sunday amid political turmoil over the ouster of President Mohammed Morsi and rebuffed claims that it has devised ready-made amendments.
Inaugural meeting of the panel, which includes six senior judges and 4 high-profile constitutional law professors, was "procedural", establishing one-week window for political groups to submit amendments.
The committee met amid political tension and street protests organised by the Muslim Brotherhood to protest Morsi's ouster by the army on July 3. The meeting of the so-called "committee of experts" was held in the oval office of the Shura Council, Egypt's upper House of Parliament.
According to Ali Awad, committee chairman and Interim President Adly Mansour's constitutional and legal affairs consultant, the two-and-a-half-hour closed-door meeting today was just "procedural," aiming to settle a timetable for upcoming meetings and agendas.
After 28 July, proposed amendments will be revised by a "technical committee of experts," Awad said. Awad strongly denied that the committee has devised ready-made amendments to the 2012 constitution.
"We do not have tailored amendments to the 2012 constitution," Awad was quoted by Ahram online as saying. He stressed that "the committee is not under pressure or orders to draft the amendments in a certain way." According to Awad, "it is too early to decide" which articles must be amended.
They have 30 days to draft changes paving the way for new parliamentary and presidential elections. A second 50-member committee will have two months to review those amendments before citizens vote in a referendum.
The previous constitution framed by the government of ousted Islamist President Morsi has been suspended. His Muslim Brotherhood movement has denounced the re-writing of the constitution.
Thousands of pro-Morsi supporters are continuing to protest against his removal in the Nasr City area of Cairo. Demonstrators, many of them from Morsi's Muslim Brotherhood, staged large rallies across Egypt on Friday. The Brotherhood has refused to recognise the new military-backed administration.
However, interim Prime Minister Hazem el-Beblawi, in his first televised interview, said yesterday he was hoping for everyone to take part in a national dialogue. "We cannot write a constitution when the country is divided.
We have to return to harmony," he said. The Morsi-backed constitution was approved in a controversial December 2012 referendum but considered one of the most contentious measures in his year in office.
Opponents complained the charter was too Islamist in content, gave Morsi extensive new powers and failed to protect freedom of expression and religion. At least 60 people have been killed in violence since Morsi was deposed.
Image: A member of the Muslim Brotherhood holds a sign during a rally outside Egypt's defence ministry headquarters in Cairo
Photograph: Amr Abdallah Dalsh/Reuters