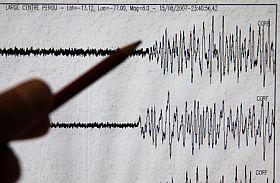 A child was killed in a mudslide during a mild earthquake in Assam on Wednesday which was also felt in other northeastern states and Odisha.
Three children, who had gone for fishing in river Beki at Kalgasia village in Assam's Barpeta district, were swept into the waters by the mudslide during the tremor, official sources said.
While Jehirul Nessa drowned, the other two Moidul Islam and Kamala Khatun were rescued and sent to the hospital.

The tremor struck at 6:53 am in Assam at a latitude 26.3 degree North and 92.0 degree East with its epicentre at a depth of 16 km in Darrang district.
A report from Shillong quoting officials at the Regional Seismological Centre said that the tremor was also felt in neighbouring states of Meghalaya, Nagaland, Arunachal Pradesh and Manipur, categorised under Zone V of the country's seismological map and considered to be highly active.
In Odisha, the tremor occurred at 8:36 am in Puri district with its epicentre at about 40 km from the seismological observatory at Bhubaneswar, the Meteorological Centre said.
The earthquake was felt in Astaran and nearby areas in the district, but no casualty was reported.