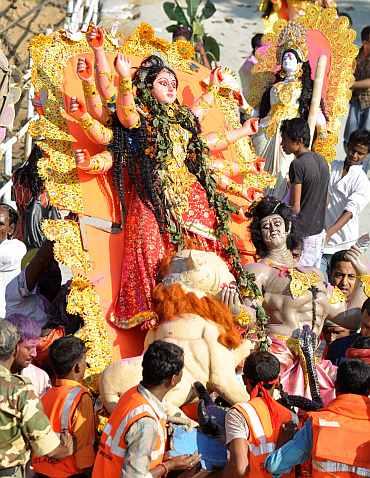 The four-day Durga Puja festival in West Bengal and other states ended on Thursday with people celebrating Vijaya Dasami which marked Goddess Durga's return to her husband's home. The immersion of idols at the ghats on the banks across various states was made amid tight security, the police said.
"The immersion was overseen by speed boats, watch towers and police personnel in strength," the police said.
Nearly 50 per cent of the 979 community pujas, scheduled for immersion on Thursday in West Bengal, was over by evening apart from many household pujas. The immersion would continue for three days until October 8, police sources said.
Arrangements had also been made in the districts for peaceful immersion, state police sources said. Prior to immersion of the idols, women engaged in 'sindoor khela' (application of vermilion on each other's forehead) and men and children exchanged greetings.
Several big budget puja committees have decided to keep their idols for a day or two to give puja enthusiasts, who missed, a chance to have a look at the gorgeous pandals and extravagant lighting.
Image: Idol of Goddess Durga being immersed in river Brahmaputra at Machkhowa ghat on Vijaya Dashami in Guwahati
Photograph: Reba kumar Borah