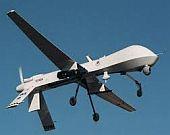 Defending drone actions in the anti-terror operations, top White House official and CIA Director nominee John Brennan has said the unmanned combat vehicle is used by the US only as a "last resort".

"We only take such (drone) actions as a last resort to save lives when there's no other alternative to taking an action that's going to mitigate that threat," Brennan told the Senate Intelligence Committee during his confirmation hearing amid anti-drone protests inside the hearing hall.
As protests continued despite repeated efforts by Senators and the security police to normalise the situation, the audience were asked to leave by Senator Dianne Feinstein, Chairman of the Senate Select Committee on Intelligence.

Brennan said he has been a strong proponent of trying to be as open as possible with the drone programmes.

"What we need to do is optimise transparency on these issues, but at the same time, optimise secrecy and protection of our national security. I don't think that it's one or the other. It's trying to optimize both of them," he noted.

The official told lawmakers there is a misimpression among some people that the US takes drone strikes to punish terrorists for past transgressions.

Brennan said President Barack Obama has insisted that any US action will be legally grounded and thoroughly anchored in intelligence, and will have appropriate review and approval process before any action is contemplated, including those actions that might involve the use of lethal force.
He said his role as the President's counter-terrorism adviser was to help ensuring that the actions do not violate law and at the same time, meet the standards needed for country's security.

Brennan asserted it is tried to ensure that "everything possible" is done before turning to the use of "lethal" drone weapons, adding he never believed it was better to kill a terrorist than to detain him.

"We want to detain as many as possible, so we can elicit intelligence from them in the inappropriate manner so that we can disrupt follow-on terrorist attacks."
"So I'm a strong proponent of doing everything possible, short of killing terrorists, bringing them to justice, and getting intelligence from them," he said.
The official said US has been providing intelligence to its overseas partners which have been questioning a large number of suspects.
About the interrogation methods used by the CIA to extract information, Brennan said he is not in favour of the use of waterboarding techniques.
"As far as I'm concerned, waterboarding is something that never should have been employed and as far as I'm concerned, never will be, if I have anything to do with it," he said.
Brennan further said any death by mistake during any operation against terrorists should be publicly acknowledged.
"I believe we need to acknowledge that. We need to (tell about) it to our foreign partners. We need to acknowledge it publicly," he said.
Brennan said although there are certain circumstances when some considerations need to be taken into account, he believes the US government should acknowledge such happenings in the interest of transparency.

The principal mission of the agency is to collect intelligence, uncover secrets to prevent strategic surprises and to be the best analytic component within the US government, he said.
"At times, the President asks and directs the CIA to do covert action. That covert action can take any number of forms, to include paramilitary."
As we've discussed here today on the counter-terrorism front, there are things that the agency has been involved in since 9/11 that, in fact, have been a bit of an aberration from its traditional role," he said.
Brennan said if confirmed as the CIA Director, he will look into the mission allocated along with the resources provided for the purpose, besides ensuring best intelligence collection and analytical capabilities for the agency.

Brennan asserted that the CIA should not be doing traditional military activities and operations.
He said the US faces one of the most insidious cyber threats, and the country needs to do everything required to prevent them.
CIA's traditional information collection techniques can help determine the plans and intentions of various groups, which, in turn, can help the agency fight with cyber threats, he noted.


Earlier, the hearing was marred by anti-drone protests, with activists trying to highlight the US official's alleged atrocious record in terror operations.
CODEPINK, an anti-drone group which also protested outside the Senate, claimed the police arrested eight of its members.
The demonstrators blamed Brennan for the "death of many innocent people", noting he should not be "awarded for that."