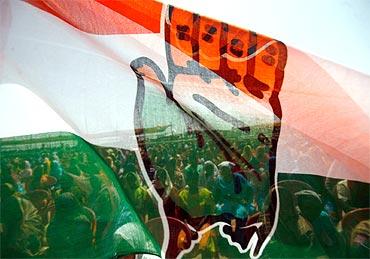 The recent offensive launched by the Congress against campaign committee head Narendra Modi is being viewed with a degree of apprehension by party seniors who believe that a sustained aggressive strategy against the Gujarat strongman could prove to be counter-productive, says Anita Katyal
A number of senior Congress leaders have cautioned that the party's response to Modi's public utterances should be carefully caliberated to ensure that there is no "overkill ". Referring to the recent attack against Modi by as many as six Congress leaders, party insiders said this could prove to be a double-edged sword.
While nobody in the Congress is disputing that they should not react to the Gujarat chief minister's provocative remarks, party seniors have only said the party's responses particularly on his communal taint should be sufficiently tempered.
"We should not end up creating a sympathy wave for Modi," remarked a senior Congress leader. Pointing out that no senior Bharatiya Janata Party leader had spoken up in Modi's defense, a section of All India Congress Committee office bearers warned that if the Congress persists with this line of attack, the Gujarat chief minister may even be perceived as somebody who is "waging a lonely battle".
This, they believe could boomerang on the Congress.
It is, therefore, being suggested that while questioning Modi's secular credentials, the Congress attack should not lose sight of debunking his claims on governance and development.
The overemphasis on Gohdra and the anti-Muslim riots which followed in 2002 should be avoided as Modi is now well-recognised as a Hindutva icon and this identity has been widely accepted and internalised by the people.
During the last Gujarat assembly polls, the Congress took a conscious decision to run a low-key campaign which focussed on local issues, avoiding all references to the 2002 riots to ensure there was no polarisation along religious lines as a Hindu consolidation always helps Modi.
However, as the high-stakes Lok Sabha election due next year, temperatures are rising on both sides. While Modi changed his trajectory recently by mocking the Congress party's appeasement of minorities when he accused it of wearing a "burqa of secularism", Congress leaders were quick to hit back in full measure. They all came down heavily on Modi for this particular to expose Modi's statement while the party's communications chief Ajay Maken gave facts and figures to rebut Modi's claim on development indices in his home state.