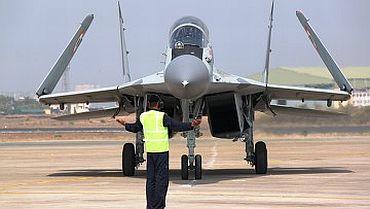 Indian Navy has asked the coastal residents in Goa not to get worried as that they might hear large noise of super sonic boom as MiG-29K supersonic flights were practicing off the coast.
Indian Navy Public Relation Officer (PRO) Cdr M C Joshi has said that the residents may hear sonic boom sounds and they need not panic as it is associated with the training of MiG-29K aircrafts, which is happening off Goa coast.
The defence official said that without disturbing the resident population of Goa, MiG-29K pilots at INS Hansa will fly all flights involving supersonic profiles deep into the sea and at very high altitudes.
"However, there is still a possibility that sonic booms could be heard by the local population and our fishing communities from time to time," he added.

In February this year, the residents had panicked after three loud sounds were heard in the sea.
The state government had initiated inquiry into the cause of the sound and later had found out that the noise was related to MiG-29K.
The PRO has said that the MiG-29K is an advanced multirole fourth generation Air Superiority Fighter at present being operated from the Indian Navy's premier naval air station INS Hansa at Dabolim.
This aircraft has the capability to go supersonic at almost twice the speed of sound, in order to overtake enemy fighters and shoot them down.