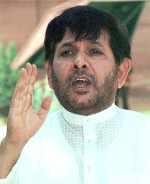 Against the backdrop of charges against Congress chief Sonia Gandhi's son-in-law Robert Vadra and realty major DLF, the Janata Dal-United on Thursday said the key issue of Foreign Direct Investment in multi-brand retail should not be forgotten in the din over other issues and suspected that those involved in coal and 2G scams may be trying to divert attention.
JD-U president Sharad Yadav also accused the civil society of causing "diversion" in action against the corrupt.
"Right now, many people are raising many questions like the DLF, which are important according to them. We have to ensure that we do not move away from the central issue, which is the government's decision on FDI in multi-brand retail that can render more than 25 crore people unemployed," Yadav said.
"Other issues can be raised later but an effort is being made to push them to the backburner. Those involved in 2G and coal block scams could be behind it. It is also a reality that nobody became rich in the country without support from the government or the banks," he added.
He, however, evaded queries on whether he feels Arvind Kejriwal, by raising the Vadra issue, is diverting attention from real issues and merely said attention should not be deflected from the main issue because of these matters.   
Asked whether he supports the demand for a probe into charges against Vadra and DLF, Yadav merely said his current focus is FDI and hence he has not gone into the other issue.
On being pointed out that he is convener of the National Democratic Alliance, whose major constituent the BJP seems to have lapped up the Vadra issue, Yadav sought to make a distinction saying he was speaking as the JD-U president and not as convener of the opposition alliance.
Yadav, who had shared dais with Anna Hazare during his agitation at Jantar Mantar last year said, "Twenty seven persons were sent to jail in various corruption cases before April 5 last year when Anna Hazare sat on fast unto death. But, after the "diversion" that was caused since April 5, no other corrupt person was arrested."