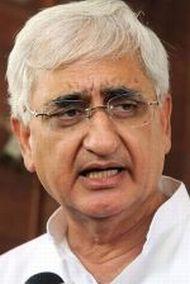 Domestic compulsions had forced India to look inward, which led it to lose focus on the international front during the early years after Independence, External Affairs Minister Salman Khurshid said Tuesday.
Addressing a function organised by Indo-Arab League, Khurshid said as the world moved very fast, India could not keep pace.
He said at that time, India had to grow more food to feed its people, provide water, power, education, jobs and it had to reform its economic structure.
"Somewhere India lost the focus on international relations and India turned inwards... we were obviously far away from our commitment to self reliance. So while committing itself to some of its own domestic concerns, India lost its salient features of its attention globally," he said.
Voicing support for cause of Palestine, he said, "We never stopped being your friends. We never stopped feeling the pain that you felt. We never stopped celebrating your moments of joy that you had."
Image: External Affairs Minister Salman Khurshid