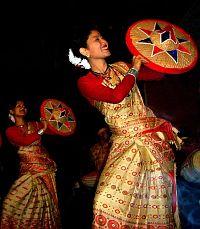 The Paresh Baruah faction of ULFA has warned Assam singers from singing Hindi songs in the upcoming Rongali Bihu functions and the organisers to desist from holding dances set to Bollywood songs.
In an e-mail to PTI on Thursday, ULFA assistant publicity secretary Arunudoy Asom said "We urge the singers to keep away from singing Hindi songs and the dancers to also refrain from dancing to such songs. We have noticed that some singers first sing Hindi songs when the audience make requests for Bihu songs."
"We will keep a strict watch on Bihu cultural shows. ULFA cadres will be compelled to protest at the functions hereafter of those singers, artistes and organisers disrespecting our appeal and Assam's culture influenced by India's culture".
"The responsibility of an artiste or a cultural function organiser does not end in entertaining people with songs and dances. Their prime responsibility is to make the society alert and aware of its culture.

"Our position announced earlier for keeping our culture alive still stands. We urge the artistes to perform the local ethnic communities' songs and dances at the Bihu functions", the ULFA leader said.

Rongali Bihu, one of the three agrarian Bihu festivals of Assam celebrates the state's New Year in Mid-April with cultural festivals in both rural and urban areas.