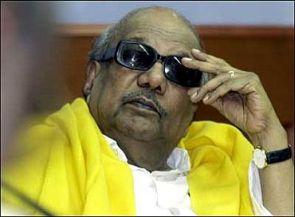 Making clear its stand over the United Progressive Alliance's ambitious Food Security Bill, the Dravida Munetra Kazhagam on Sunday said it would support it only if it incorporated all the important amendments sought by various political parties and not in its present form.
"If the Bill comes with all the important amendments as sought by various political parties, then the DMK will support it. If the Centre is firm on bringing it in the present form, without making any amendments, then DMK will oppose it..," party President M Karunanidhi said in a statement in Chennai.
Responding to Chief Minister Jayalalithaa's set of questions to the DMK on the issue yesterday, he said his party's parliamentary leader T R Baalu had already submitted the necessary amendments in Parliament on August 7.
On her comments that nowhere in his earlier statement did he say that DMK would oppose the Bill, he asked, "Does that statement say anywhere that the DMK would support the Bill?"
He also pointed out that the chief minister's letter to the prime minister had only said that necessary amendments needed to be made and had nothing to the effect that the All India Anna Dravida Munnetra Kazhagam would oppose the bill. Maintaining that his stand on the issue was always clear, he said, "We have always said that we would not accept if the Bill is brought in its present form."
On Jayalalithaa questioning DMK's 'double standard' by supporting the Centre's FDI in retail move, he said, "I had initially opposed the FDI. Only after the chief minister's statement that it would not affect the small traders and farmers in the state, since the situation in the state was different, I had said the DMK would support the UPA to keep a stable government in the Centre."
He said since the DMK was part of the ruling UPA then, it did not want to commit betrayal of alliance 'dharma' during the voting. "This is not betrayal (of people) or double standards. Not supporting the alliance would be considered as political betrayal."
He also rejected reports that DMK had accepted certain conditions, including its support to Food Bill, in return for Congress' backing of his daughter Kanimozhi in the recent Rajya Sabha polls.
"There is not an iota of truth in it. Congress had not put any such conditions. Even Congress leader Mukul Wasnik has made this clear and it has been reported in the media," he added.