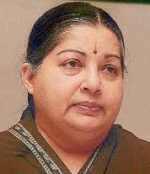 Dubbing Opposition Dravida Munnetra Kazhagam as an "evil force", All India Anna Dravida Munnetra Kazhagam chief J Jayalalithaa on Wednesday accused it of 'conniving' with ally Congress and the United Progressive Alliance government to create hurdles in Tamil Nadu's progress.
The chief minister also reminded AIADMK cadres to strive toward securing all 40 Lok Sabha seats in the state to ensure that the party, under her leadership, has a 'decisive say' in national level politics.
"For people of Tamil Nadu to get their due rights, for the state to fulfill its just demands and for the AIADMK to have a decisive say in formation of the Central government, party men should work to secure all 40 seats (39 in Tamil Nadu and one in Puducherry)," Jaya said, addressing the party members on 96th birth anniversary of AIADMK founder M G Ramachandran, popularly known as MGR.
Eyeing a greater national role, AIADMK supremo had earlier on several occasions asked her party men to work toward bagging all 40 Lok Sabha seats in Tamil Nadu. She had also announced that her party would go it alone in the next general elections, virtually sounding the poll bugle.
Terming the DMK as an "evil force", Jayalalithaa accused the party of influencing the United Progressive Alliance coalition to bring a bad name to her government in the state and slammed both the Congress and the Bharatiya Janata Party in Karnataka for denying Cauvery waters to Tamil Nadu.
"It is using its alliance clout to insult me. It instructs the minority Congress-led UPA government to deny Tamil Nadu power and kerosene besides asking it not to notify the Cauvery water tribunal's final award. And the Central government is also nodding its head," she alleged.
The CM said she was not new to such 'antics' of the DMK and vowed to get over them with the support of party workers.