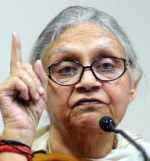 Delhi Chief Minister Sheila Dikshit on Thursday handed over a cheque of Rs 15 lakh as ex-gratia to the father of the 23-year-old gang-rape victim.
The CM assured him of all possible help to the family and told him that her government would explore the possibility of providing a flat to them.
Dikshit handed over the cheque to the father of the girl at her residence.
The decision to extend the financial help to the family of the deceased girl was taken by the Delhi Cabinet on December 31.
The CM also told him that the Delhi government would help the family in education of their two sons and make them earning members.
The physiotherapy student was brutally gang-raped and assaulted in a moving bus in south Delhi on December 16. She died in a Singapore hospital on December 29.
Apart from family members of the victim, West Delhi Lok Sabha MP Mahabal Mishra and Parliamentary Secretary to the chief minister Mukesh Sharma were also present.