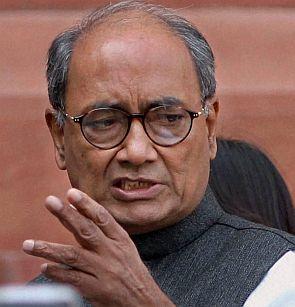 Stepping up attack on the Bharatiya Janata Party over Asaram Bapu controversy, Congress leader Digvijay Singh on Sunday targeted Narendra Modi, asking why he has not taken action on the report of a judicial commission which probed the mysterious death of two boys at the godman's Gujarat ashram.
The remarks by Singh, who claimed that Asaram was close to the BJP, came a day after he questioned why opposition leader Sushma Swaraj was "silent" on rape allegation against the self-styled godman when she has been vocal on issue of atrocities on women and accused her party of double standards.
Reacting to it, Swaraj said the law will take its own course. "In our country we have a law that is same for everybody," she tweeted.
But Singh persisted with his charge, "This is very illustrative of the double standrads of the BJP that they cry hoarse on issues where someone else is involved but where one of them is involved, they keep quiet."
He alleged that Asaram has been close to BJP "for a very long time" and targeted Gujarat Chief Minister Modi.
"And if Narendra Modi wants that justice should be done, first of all the judicial commission report which is in closed cover with Gujarat on the issue of murder of two boys who were living in Asaram's ashram, why is it not being made public.
"Why has be not taken action against the culprits," the Congress leader said, adding that several BJP leaders have been supporting Asaram and Uma Bharti "has been the first one to defend him".
On Saturday, he had attacked Swaraj saying, "The most vocal voice of BJP against atrocities against women has been Sushma Swaraj. Why is she quiet in Asharam Bapu's case." Swaraj on Sunday tweeted in response, "There is no one big or small. And law will take its own course".
"I told the media in Vidisha Saturday also. In our country we have a law that is same for everybody," she said in another tweet.
The 72-year-old godman was arrested after midnight for allegedly sexually assaulting a 16-year-old girl. Earlier, cousins Dipesh Vaghela, 10, and Abhishek Vaghela, 11, went missing from the residential school -- Gurukul -- run by the controversial godman on July 3, 2008.
Two days later, their mutilated bodies were found in the riverbed nearby.
After the bodies were found, there was a widespread agitation against the ashram, with allegations that the deaths were linked to 'black magic' practised there.