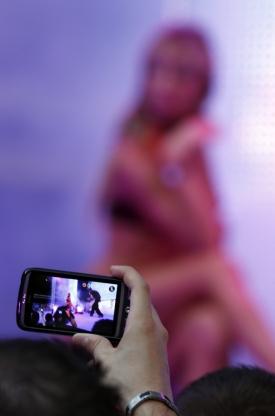 The government on Friday told the Supreme Court that it is difficult to block international porn sites in the country and sought more time to consult various ministries to find a solution. Its plea for holding wider consultations came after the apex court pulled up the Government for taking such a long time in dealing with a "serious" issue.
A bench headed by Chief Justice Altamas Kabir granted four weeks time to the Centre to devise a mechanism to block such sites particularly those showing child pornography. Additional Solicitor General Indira Jaising had sought more time to file a reply in the case.
The court was hearing a petition filed by Indore-based advocate Kamlesh Vaswani who pleaded that although watching obscene videos is not an offence, pornographic sites should be banned, as it is one of the major causes for crime against women. The petition filed through advocate Vijay Panjwani said the absence of Internet laws encourage people to watch porn videos and as it is not an offence, over 20 crore porn videos or clippings are freely available in the market, which are directly been downloaded through Internet or other video CDs.
"The sexual content that kids are accessing today is far more graphic, violent, brutal, deviant and destructive and has put entire society in danger so also safety threats to public order in India. The petitioner most respectfully submits that most of the offences committed against women/girls/children are fuelled by pornography. The worrying issue is the severity and gravity of the images is increasing. It is a matter of serious concern that prepubescent children are being raped," it said.
The petition also referred to the December 16 Delhi gang-rape case, in which a 23-year-old paramedical student was physically and sexually assaulted by six persons, after which she died.
"Offenders' minds are mostly fuelled by pornography as the sexual offender or rapist achieve his gratification not from sexual release alone but also from the thrill of domination, control and power," it said. It added that only distribution, production and sharing of porn videos and clippings are treated as offence in the country.
"At best, the IPC only recognises the offences of obscenity, kidnapping, abduction, and other related offences which are not sufficient to tackle the issue of pornography, and such videos," it said, adding that watching and sharing obscene videos should be made non-bailable and cognizable offence.
The apex court had on April 15 issued notice on the petition and sought response from the government on the plea.
Photograph: Eric Gaillard/Reuters