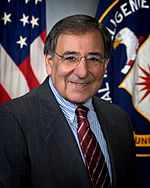 The United States Defence Secretary Leon Panetta has said that he did not discuss specifically the Indo-American ties with China, during his recent visit to that country.
"We didn't discuss that specific assistance that we're working on with India," Panetta told reporters.
"But just in general the discussions that I had with the Chinese, it was that the purpose of our effort to rebalance to the Pacific is aimed at the prosperity and security of the Pacific region, and that a key to that strategy is a strong bilateral relationship between the United States and China\ because we share concerns in the Pacific," he said.
"We share concerns with regards to terrorism, with regards to issues like nuclear proliferation, with regards to humanitarian assistance, maritime rights, et cetera, and that it's important for us to work to develop the capabilities of countries in that region so that they could help secure themselves," Panetta said.
"So if I ever was asked about the situation in India, my answer would be with what we do with regards to other countries in the region. We try to help develop their capabilities so that they can help provide security for that region," the defence secretary said.

Image: US Defence Secretary Leon Panetta