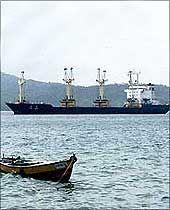 The North Korean ship, which was detained by the Coast Guard after a chase in Andaman and Nicobar Island, had no traces of chemical, biological, radioactive or nuclear material, two nuclear scientists said on Sunday in their final report.
After critically examining the ship 'M V Mu San' at Kakinada port, a team of scientists from Kalapakkam nuclear centre concluded that they found no 'CBRN (Chemical, Biological, Radioactive and Nuclear) traces' from the ship, which was detained by the Coast Guard off the Andaman waters in the first week of last month, official sources said in New Delhi.
The report was handed over to authorities on Sunday.
Though the preliminary search of the ship at Andaman had raised suspicions in this regard, the security agencies, however, wanted a thorough investigation of 'M V Mu San' by bringing the vessel to Kakinada port in Andhra Pradesh to find out whether there was any CBRN consignment.

Detailed searches were conducted with the help of more sophisticated equipment after offloading the entire cargo of 16,500 metric tonnes of sugar from the ship in nearly three lakh gunny bags.
The North Korean vessel dropped anchor off Hut Bay island in the Andaman islands on August six without permission and was detained by the coastguard after an over six-hour chase.
The ship's 39-member crew, which also includes a North Korean government official were also questioned at the Kakinada port, the sources said, adding the questioning was conducted in the presence of a Korean interpreter as no one was fluent in English on the ship.
The final destination of the ship to Iraq had raised suspicion among security agencies as the US would not have hired a North Korean ship for transporting anything to Iraq after the UN imposed sanctions on it in June this year following conduct of nuclear tests on May 25 this year.
The track record of the ship also showed that it had anchored at Kandla port in January this year and has been frequently sailing between China and Pakistan, the sources said, adding the security agencies were now trying to ascertain the purpose of its visit to India and the agents who had dealt with the load at that time.
Now after the ship was cleared, the authorities were likely to slap the owners of the Korean ship under the Indian Maritime Act for entering the Indian waters illegally, the sources said.

The seized North Korean vessel was moved to Kakinada port on August 19 from the Hut Bay in Andaman waters where central security agencies and nuclear scientists were to thoroughly search it. The Coast Guard escorted the ship on its five-day voyage to Kakinada.