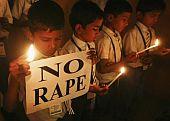 The mother of the Delhi gang rape victim has spoken for the first time about the attack that shocked the country and has asked to hang the culprits for the heinous crime that they committed.
"My soul will never know any rest if the men who tormented my daughter are not hanged," the Telegraph quoted her a saying.
"If they are not, the idea of them being in jail, eating and watching television, talking and laughing when my daughter has gone from this world will eat away at me.
"Living out the rest of my life will be very hard if those men are not hanged," she said.
She asserted that she was not interested in compensation from the government, or in the various promises of help that have been made by ministers and organisations, including job offers for her son.
"I want only one thing. I want to see those animals hanged," she added.