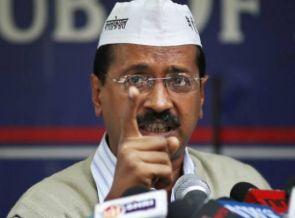 The Delhi high court on Wednesday declined to entertain a plea seeking a ban on the publication and circulation of Arvind Kejriwal's letter questioning orders sending him to judicial custody and also levelling allegations against Nitin Gadkari.
A bench headed by Chief Justice G Rohini did not go into the issues raised in the Public Interest Litigation, which had also sought blocking of the Aam Aadmi Party website till the letter was withdrawn from it.
The PIL, filed by advocate Vivek Narayan Sharma, had sought a ban on the letter on the ground that it would incite people not to follow rule of law. The PIL had alleged, the impugned action and declaration by Kejriwal and AAP is to incite and encourage people against Rule of Law and the Constitution. "Therefore, the same is very bad for the nation in the long run and would encourage anarchy and destabilise the nation's welfare, growth and peace," the PIL stated. It had said the letter was 'defamatory and contemptuous' to the judiciary.
Arvind Kejriwal, former Delhi chief minister, was sent to judicial custody by a trial court on May 21 and again on May 23 after he refused to furnish bail bond in a criminal defamation complaint filed against him by Nitin Gadkari.
After spending six days behind bars, he was released from Tihar Jail on Tuesday when he agreed to the high court's suggestion that he should furnish the bond and come out of the prison.
He was released from jail after his lawyers furnished a personal bond on Kejriwal's behalf before a magistrate in Patiala House Court. Kejriwal had earlier refused to furnish a bail bond before the court on the ground that it was against the principles of AAP to furnish bail bond in a case of political nature.