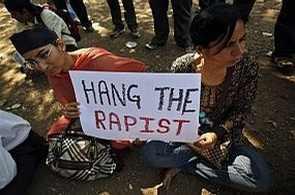 A witness in the December 16 gang-rape case complained to a fast track court in New Delhi that he felt harassed by the questioning of the counsel for the accused.
"I am being harassed," the witness, who works for a private company engaged to patrol the National Highway 8 connecting Delhi and Gurgaon and provide help to accident victims, said.
The witness, who had made the call to the police control room, was unhappy with the way advocate V K Anand, appearing for accused Mukesh, was questioning him regarding his activities on the night of December 16, 2012.
The defence lawyer wanted to know what all help, if any, the witness had provided to the victims, what made him realise it was a police case, why he did not call for an ambulance, etc.
The witness responded to this line of questioning of the defence lawyer by saying, "This is why ordinary people do not come forward to depose in such matters."
Additional Sessions Judge Yogesh Khanna at this juncture advised the defence counsel to calmly ask questions and to give the witness an opportunity to answer them. The judge also said, "You should not unnecessarily ask questions. Don't ask qustions simply for the sake of asking."
Special Public Prosecutor Dayan Krishnan also chipped in with "you (defence counsel) have no right to shout at or intimidate the witness".
The witness, whose statement was recorded on Tuesday, told the court that he and his colleague while patrolling their allotted section of NH8 had heard cries for help and on checking they had come across the victim and her male friend on the side of a service road of the highway. He told the court they had provided clothes to the two victims who were naked, injured and bleeding, and after informing their control room, had informed the PCR.
The 23-year-old victim was brutally gang-raped and her male friend assaulted, in a moving bus here on December 16 night. The girl later died of her injuries in a Singapore hospital on December 29, last year.

Image: A protest against the Delhi gang rape