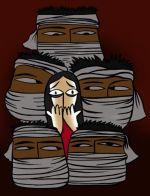 Two forensic experts, who had provided scientific support and services in the probe into the December 16 gang rape-cum-murder case, were cross-examined by the defence counsel for four adult accused in a Delhi court.
B K Mohapatra, Senior Scientific Officer and Rajender Singh, a Principal scientific officer cum assistant chemical examiner, both from Central Forensic Science Laboratory, were cross-examined by the defence counsel.
The statement of both the experts, who appeared as prosecution witness, were recorded by Additional Sessions Judge (Fast Track Court) Yogesh Khanna during in-camera proceedings.
Besides the two, Rashmi Ahuja from SafdarjungHospital here and Delhi Police head constable Giri Raj, who took accused Pawan Gupta for medical examination, also testified as prosecution witnesses on Thursday.
Doctor Ahuja had initially prepared Medico Legal Case of the victim describing the wounds and injuries caused to her during the commission of the crime.
With the proceedings against main accused Ram Singh abated after his death, the remaining four adult accused are facing trial in the case for rape and murder of the 23-year-old girl who died on December 29, 2012 in a Singapore hospital.
The girl died due to grievous injuries she had suffered when she was sexually assaulted by six persons. The sixth accused is a juvenile who is facing proceedings before the juvenile justice board.