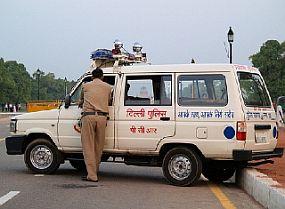 Investigators on Sunday launched a hunt for a second person in the rape of a five-year-old girl in Delhi after an arrested man spoke about the role of another man in the incident over which protests demanding the removal of Police Commissioner erupted for a third day.
The girl is "gradually" recovering and there is "no danger" to her life though it will take another two weeks to discharge her from the hospital, doctors at AIIMS said.
On a day of flip-flop by Delhi Police on the issue of the role of second person, the arrested accused Manoj Kumar was produced before a court and agreed for a test identification parade. The duty magistrate sent him to judicial custody till May 4.
Earlier in the day, police announced that they will produce Kumar, who was arrested from his in-laws' house in Bihar's Muzaffarpur yesterday, in court on Monday before the expiry of transit remand granted by a Bihar court.
Police had in a statement earlier in the day denied "rumours" of arresting a second accused or "looking" for him.
Sources said Kumar had taken the name of the second person's presence at the time of the incident with Delhi Police as well as Bihar Police during questioning.
In the evening, a senior police official said they were probing whether the second suspect is involved in the rape or whether he helped Kumar in fleeing the capital on April 15 soon after the rape.