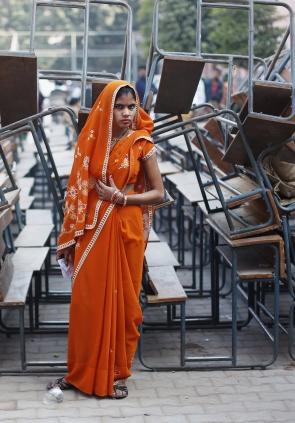 A section of voters in Delhi chose to exercise the newly-introduced 'None Of The Above Option' on Wednesday, saying they have "little expectations" from any of the political parties engaged in the electoral battle.
"This election has given us he unique opportunity of pressing the NOTA button," said Arvind Tyagi, who listed a host of problems faced by his colony in Vikaspuri in West Delhi.
The apex court had given the path-breaking verdict this September, holding voters have a right to reject all candidates contesting polls in a constituency by pressing NOTA.
Following the court order, the Election Commission had introduced the option in assembly polls for Mizoram, Rajasthan, Chhattisgarh, Madhya Pradesh and now Delhi.
Scores of voters across the city said they exercised the NOTA option to "alter" the nature of the political contest.
"Last year, my family members and I did not cast our votes. We had given a letter to the authorities rejecting all the candidates. This time we exercised the NOTA option," said Baliram Sharma, a resident of Laxmi Nagar.
A number of youngsters at BJP's chief ministerial candidate Harsh Vardhan's constituency in Krishna Nagar also said they did not vote for any party and instead pressed the NOTA button.
But a large number of people in south Delhi said they were not aware of NOTA.
"No, we are not aware of any such options available to us (voters). I knew only that we had to choose from one of the candidates," said Lalita Sharma, a housewife from Chhatarpur constituency at a Model Polling Station.
Image: A woman waits to cast her vote at a polling booth during the assembly election in Delhi 'Photograph: Ahmad Masood/Reuters