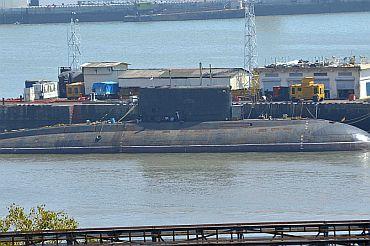 Confirming worst fears, Indian Navy on Thursday said two of its officers, who had gone missing after a mishap onboard submarine INS Sindhuratna off Mumbai coast on Wednesday, had died.
The bodies of Lieutenant Commander Kapish Munwal and Lieutenant Manoranjan Kumar were located in a compartment in the vessel, which has returned to the harbour.
"The two officers who were earlier declared missing have been located in the compartment and after examination by medical officers, both the officers were declared dead," a brief message from the Navy said.
The Russian-made INS Sindhuratha was at sea on a routine training and work-up (inspection) in the early hours of Wednesday when smoke was reported in the sailors' quarters, in compartment number three, according to the Navy.

Smoke had engulfed the Kilo Class submarine and the seven affected sailors had to be airlifted to a hospital in Mumbai, while Munwal and Kumar could not be traced.
This is the tenth mishap involving an Indian Navy warship and the third in case of a submarine in the last seven months, including INS Sindhurakshak which sank in August after multiple explosions at the Naval Dockyard here, killing 18 personnel on board.

The string of accidents involving Naval vessels had on Wednesday led to the resignation of Navy Chief Admiral D K Joshi, who quit owning moral responsibility.
Meanwhile, the Navy has instituted a high-level inquiry by a Rear Admiral-rank officer into the accidents involving submarines, including INS Sindhuratna.
"A high-level inquiry headed by an officer of Rear Admiral-rank has been constituted and has immediately commenced its proceedings to establish the cause of all (submarine) incidents and to recommend steps for continuing safe operations of submarines," a statement by the Western Naval Command said.

Image: INS Sindhuratna docked at the naval base in Mumbai
Photograph: Sahil Salvi