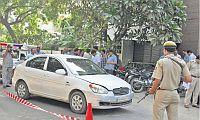 Two more persons, allegedly involved in the planning of the sensational Rs 5.25 crore heist in south Delhi, were arrested in New Delhi with Rs 2.60 lakh of the stolen cash, the police said on Monday.
With this, the total number of those who were arrested in connection with Friday's daring robbery in upscale Defence Colony has risen to five and the amount recovered to over Rs 2.39 crore. Three persons including a robber were arrested earlier.
Umesh 31, a former employee of the cash replenishment agency, who provided inputs about the cash van's movement, and Mukesh Saini, 39, who was allegedly involved in the planning, were apprehended, Vivek Gogia, Joint Commissioner of police (South-West), said.
Earlier reports had said that four more persons have been arrested and almost the entire money recovered. However, police is yet to arrest the four alleged robbers involved in the crime.
Mukesh was allegedly involved in two cheating cases and got in touch with some of the suspected criminals. "Deepak Sharma, revealed that someone had been informing one of the co-accused over phone sharing specific information on description, movement and  location of the van carrying the cash.
The employees of bank, risk management companies and vault managing company were also scrutinised and interrogated to identify leakage of specific information" Gogia said.          Police found that Mukesh had been an associate of one of the main accused and was in touch with Umesh.
Simultaneous raids were conducted at various places and surveillance was mounted on these two suspects, which resulted in the arrest of Mukesh from Mandawli in East District near his relative's house.
The gang had waylaid the cash van, pinned down a security guard and shot him after he tried to snatch their weapons. They fled the spot in the cash van leaving behind the car in which they were following the vehicle. The guard succumbed to bullet wound.