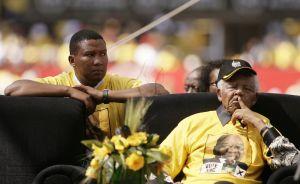 The family of Nelson Mandela is deeply divided over the South African democracy icon's final resting place with one of his grandsons storming out of a family meeting, according to a report on Wednesday.
The family was torn between Mandla Mandela -- who wants Mandela buried at his birthplace in Mvezo -- and the rest, who felt that his wish to be buried next to his children should be respected, The Star newspaper reported quoting its sources.
The meeting held Tuesday at Qunu in the Eastern Cape, where the revered statesman spent his childhood, to discuss a significant family matter -- was attended by family, United Democratic Movement leader Bantu Holomisa and Minister of Public Service and Administration Lindiwe Sisulu.
Also in attendance were chief Bhovulengwe of the abaThembu royal council, Mandela's daughters Makaziwe and Zenani, and Mandla and his brother Ndaba.
The Star has reliably learnt that Mandla had exhumed the bodies of three of Mandela's children by Evelyn, his first wife, and reburied them in Mvezo.
The chieftain had moved his father Makgatho; his aunt Makaziwe, who died in 1948 at only nine months; and uncle Thembekile, who was killed in a car accident in 1969, to his Mvezo traditional authority, where they were reburied.
Makgatho died of an Aids-related illness in 2005.
"This is making it impossible for Mandela to be buried next to his children because they are buried in Mvezo. Mandela is going to be buried in Qunu. Mandla did this without consulting the elders," a source said.
It is understood that a defiant Mandla stormed out of the meeting, which also discussed Mandela's health, before it was finished because the family were insistent that the Mandela children be taken back to their original burial ground.
Image: Mandla Mandela with his grandfather Nelson Mandela in Johannesburg in this 2009 photograph
Photograph: Siphiwe Sibeko/Reuters