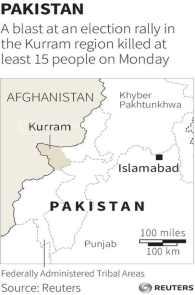 The death toll in a devastating bomb attack on an election rally in Pakistan's restive Kurram tribal region rose to 24 on Tuesday while another 70 victims were being treated in hospital, officials said.
The attack, claimed by the banned Tehrk-e-Taliban Pakistan, targeted an election rally organised by Jamiat Ulema-e-Islam leader Munir Orakzai at a madrassa in Sewak village of Kurram Agency on Monday.
Officials said 70 injured people were being treated at hospitals in Parachinar, the main town of Kurram Agency, and at Peshawar and Kohat in Khyber-Pakhtunkhwa province.
An emergency was declared at the hospital in Parachinar and doctors and paramedics on leave were directed to report for duty.
The powerful explosion was caused by an improvised explosive device when Orakzai was about to leave the rally after addressing JUI workers. Orakzai escaped unhurt while his guard was critically injured.
Some reports said the attack was carried out by a suicide bomber though this could not be independently confirmed. The Tehrik-e-Taliban Pakistan claimed responsibility for the attack on the JUI-F rally. It said the target was Orakzai and not JUI activists.
Taliban spokesman Ihsanullah Ihsan said his group had been trying for long to locate and kill Orakzai as he had been an active member of the last government formed by the Pakistan People's Party, Muttahida Qaumi Movement and Awami National Party.
In a video issued by the militants some time ago, Tehrik-e-Taliban Pakistan chief Hakimullah Mahsud had accused Orakzai of "selling" Arab fighters to the United States.

Image: Map of Pakistan locating the Kurram region where a blast killed 24 people at an election rally on Monday. | Graphic: Reuters