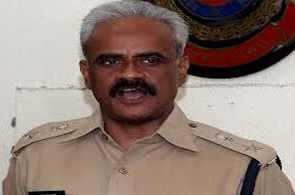 The deputy commissioner of police of East Delhi, where the rape of a five-year-old girl had taken place, was shifted in a reshuffle of middle-level officers of the Delhi police.
Prabhakar, a 2003-batch Indian Police Service officer who was deputy commissioner of police (east), was transferred to prime minister's security in the same rank, a senior police official said.
Prabhakar had headed the district where the rape of the five-year-old girl in Gandhinagar led to protests in the capital. It was alleged that the local police did not investigate the kidnapping and subsequent rape of the girl properly. A vigilance enquiry had indicted the station house officer of Gandhinagar Police for dereliction of duty.
Prabhakar has been replaced by Ajay Kumar, an IPS officer of 2001 batch who was handling the PM Security.
Chhaya Sharma, a 1999-batch officer who was heading South Delhi district as its deputy commissioner of police, was transferred to Mizoram. DCP (Outer) B S Jaiswal, a 2001 batch officer, replaces her.
Sharma had headed the South district when the gang rape of a 23-year-old woman in a moving bus on December 16 last year, took place.
A senior police official said the transfer of Prabhakar came against the backdrop of the rape incident and it was "obvious".
On Sharma's transfer, the official said AGMU cadre officers have to serve outside Delhi also and her posting to Mizoram was due.
The Delhi police spokesperson Rajan Bhagat said the transfers were "routine".
Sanjay Kumar, an officer of 1998 batch, has been posted as new additional commissioner of police. He is now the additional commissioner of police in the prime minister's security.
Vivek Kishore, an officer of 1999 batch who is at present the deputy commissioner in charge of headquarters, has also been transferred to Mizoram.