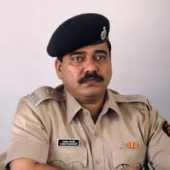 In a twist, the widow of the senior police official with Maharashtra Anti- Terrorism Squad husband did not commit suicide, but he accidentally triggered the firearm that led to his death, police said on Thursday.
Last Saturday, Sanjay Banerjee, deputy police commissioner with the state's anti-terror squad, died of a bullet shot during lunch at the Goa Portuguese Hotel with his family and the police claimed the officer had allegedly committed suicide by pulling trigger of his personal pistol on his temple.
During the probe, his widow Sushmita Banerjee told investigators that her 45-year-old husband had "accidentally" shot himself, police said adding that the deputy commissioner of police was fidgeting when the firearm went off.
The officer had also consumed four shots of tequila and two mugs of beer before he went to the restaurant for lunch, police said.
The probe also suggested that the DCP was not under stress due to work or any pending salary, police said adding that the officer's behaviour also had no indications to the family that he might take such an extreme step.