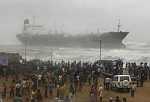 Bodies of all five sailors, who went missing after an oil tanker ran aground off the Chennai beach hours before Cyclone Nilam made landfall on November 1, have been recovered.
While four bodies were recovered on Friday, one more was found washed ashore near Minjur coastal area early on Saturday morning, police said.
The five went missing after their lifeboat capsized in choppy waters while 16 were rescued by local fishermen and one drowned on Wednesday. Fifteen sailors were rescued on Thursday from the ship, which had a crew of 37
on board.
The directorate general of shipping, which ordered a preliminary probe into the incident, will soon begin salvage operations of the ship, belonging to Mumbai-based Pratibha Shipping Company.
The salvage operation is likely to start from November 7, the directorate said on Friday night.
The Madras high court had on Friday ordered that the vessel not be moved out of Chennai Port until further orders.

Image: Ship MT Pratibha Cauvery, which was grounded by cyclone Nilam