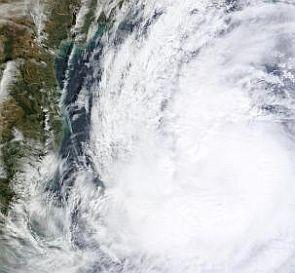 The intensity of cyclonic storm Lehar, which is expected to hit Andhra Pradesh coast on Thursday afternoon and bring heavy rain, has weakened.
According to reports, the very severe cyclonic storm, located over west-central and adjoining south Bay of Bengal, has weakened into a severe cyclonic storm.
It is expected to weaken further and cross Andhra coast near Machillipatnam on Thursday afternoon.
The Andhra Pradesh government, however, remained alert, evacuating people from vulnerable areas and taking all precautionary measures.
Chief Minister N Kiran Kumar Reddy, who reviewed the situation with officials, has directed the administration at Hyderabad and all the coastal districts, particularly Krishna, East, West Godavari and Visakhapatnam to be on high alert and take precautionary measures.
South Central and East Coast railways have announced that all the trains which are diverted or rescheduled or cancelled due to cyclonic storm will now run normally as the system is weakening.
Meanwhile, C Parthasarathy, State Disaster Management Commissioner, said: "It is likely to hit Thursday afternoon. It is traveling at a speed of approximately 150 kilometers per hour, which in itself, is very high."
"We have started evacuating places, which will be severely affected from today (Wednesday) onwards. The home ministry has assured full cooperation to the state," he added.