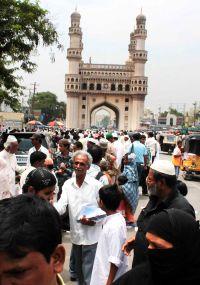 The Congress Working Committee passed a resolution on creating state of Telangana by diving Andhra Pradesh but it has said nothing on the status of Hyderabad.
B K Hariprasad, CWC member told rediff.com that, "The issue of Hyderabad will be decided as and when it arrives before us."
The biggest issue in sorting out Telangana issue was the future of Hyderabad around which the development of Andhra Pradesh has taken place in the last two decades. The area of agriculture has been neglected but information technology-related companies have changed the face of Hyderabad and the fortune of AP. The Hyderabad issue has remained undecided. In a nutshell, the Congress seems confused and has not been able to take the call on how to fix the capital city's future.

Without Hyderabad, Telangana loses its charm. So, in spite of taking the issue forward by endorsing the demand for a new state, the CWC endorsement lacks the political force needed to make the idea instantly attractive.