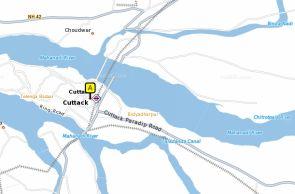 At least 19 students were injured when a low-intensity bomb exploded inside a classroom of a government-run school on the outskirts of Cuttack city on Monday, police said.
The blast took place when a teacher of Class IX was taking a roll call in AyutpurHigh School. Of the 58 students present in the class, 19 were taken to the SCBMedicalCollegeHospital.
While five students, three boys and two girls, were admitted to the hospital, others were released after first aid, Namita Mohanty, the headmistress of the school, said.
She said the students have sustained injuries in the lower parts of their bodies.
"The bomb was suspected to be in the bag of a boy hailing from a nearby village," the headmistress said quoting the students. The police, however, were not sure about it.
"We have sealed the school and a forensic team is examining the spot to find out what kind of explosive was used," Deputy Commissioner of Police Pravin Kumar told PTI.
Kumar said the police hoped to get some clue about the incident after injured students recovered.
"The students are now in a state of shock," the DCP said.
He did not rule out the possibility of a criminal angle behind the incident.