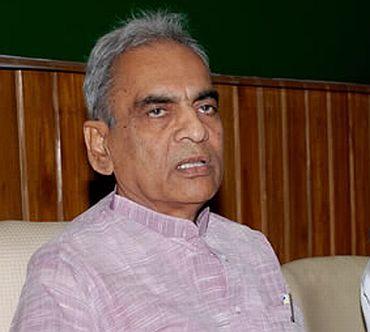 Differences in Samajwadi Party over induction of controversial politician D P Yadav into the party on Thursday burst into the open with the SP sacking senior leader Mohan Singh from the post of its national spokesman.
Singh, who pleaded for induction of Yadav, who has had criminal antecedent, was removed and Ram Gopal Yadav, brother of party chief Mulayam Singh Yadav, appointed in his place.
Singh expulsion comes after SP's state unit chief and Mulayam's son Akhilesh strongly opposed induction of the controversial MLA, for whom Mohan Singh had batted.
Reacting to the development, Mohan Singh said, "I don't think the party has removed me on this count (D P Yadav). My health isn't good, that is why they have removed me. I am thankful to the party."
He denied that he had spoken anything against Akhilesh Yadav. "I am extremely fond of him (Akhilesh). There has been a wrong campaign against me," he said.
Meanwhile, D P Yadav said from Badaun that Mohan Singh was punished for speaking the truth.
Alleging dictatorship in SP, he alleged that after appointment of Ram Gopal Yadav as the national spokesman "it has completely become the party of one family."
"Akhilesh wanted that I should go to him and beg for ticket, but I will never do so," he said.
Image: Samajwadi Party leader Mohan Singh