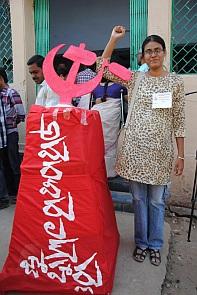 The Tamil Nadu police on Wednesday night arrested two persons who were running a competitive examination centre in Karivalamvanthanallur, a mid-size town near Sankarankoil, Tirunelveli district, on the suspicion of being Maoists, and have seized pro-Maoist literature, including CDs from their premises. The third member of the group is still at large.

The management of the centre, locally known as the 'IAS academy', also doubled up as a recruitment agent. What prompted the police action was when a youth, who, after paying a hefty amount for a job in Canada, got tired of the wait and complained to the law enforcers. While the owner of the centre, Gangatharan and the principal, Prabhakaran, were arrested, the vice-principal, Rajaram, is missing.
When the police went looking for the culprits the doors were locked, and after securing permission from the local magistrate the police broke open the doors on Monday, and found 52 passports belonging to job applicants among Naxalite literature inside.
A police official said that Rajaram had been associated with Naxal groups in the past.
Vijeyendra Bidari, the Tirunelveli superintendent of police, said, "Gangatharan is the kingpin. He is certainly a Naxalite. The books and CDs confirm this."
"I cannot show you the seized material as it is evidence in court but I can assure you that it is Maoist literature. The booklets talked about the people's war and also highlighted local problems in Tirunelveli district. It had a chapter on Koodankulam too."
He added, "When the Koodankulam agitation was at its height, we arrested eight people in Nanguneri, who had come here to join the Idinthakarai agitators. The arrested persons had come from Andhra Pradesh, Jharkhand, Odisha and Delhi. Maoist literature was also recovered from them. Varalakshmi, one of the accused, is also a member of the Revolutionary Writers Association.
"These people were later released on bail and have never been heard of from again. At that time we did not connect the two; but later we realised that it was Gangatharan who had arranged bail for them," he said.
"When I mentioned then that Maoists were trying to infiltrate the agitation, the press scoffed at the idea, but now it has been confirmed," he added.
When asked if more Maoists can be expected in the district, Bidari said, "I don't think so. The academy and job recruiting agency were both fronts for Maoist activity. But he (Gangadharan) was not very efficient -- either in getting people jobs or converting them to the Maoist philosophy.
"We believe we have nipped them in the bud but will always be alert to any such attempts in the future," he concluded.
Photograph: Varalakshmi, who was arrested at Nanguneri along with eight Maoists, and who the police say was bailed out by Gangatharan.
Picture courtesy: The Tamil Nadu police