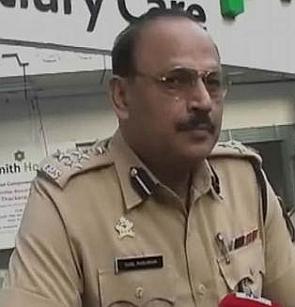 In a relief for Deputy Inspector General of Police Sunil Paraskar accused of rape and molestation by a Mumbai model, a court on Tuesday granted him pre-arrest bail, observing the complainant's behaviour and her e-mail exchange with him suggested consent.
The order of the special women's court followed six-day arguments. "Custodial interrogation (of Paraskar) is not necessary. Anticipatory bail application is allowed," said Judge Vrushali Joshi.
"It appears from the behaviour of the complainant and her e-mails that the act must be committed with consent," the judge observed.
The court also remarked that jealousy could be a possible motive behind the model-turned-actress lodging the complaint against Paraskar. "It appears from her e-mails that she was having suspicion that he (Paraskar) was having a relationship with another model and that could be the possible motive behind her lodging the said complaint," the judge said.
Further, the court noted that her behaviour towards the senior IPS officer after the alleged offences was quite normal. "She used to go out with him. It has not come across that he pressurised her. They both travelled together and she gifted him phones. Till June, 2014, they had a friendly relationship, thereafter she started making allegations," the court observed.
The judge also noted that the slang word for sexual intercourse used by the complainant in her e-mail to Paraskar doesn't prove rape. Chief public prosecutor Kalpana Chavan said that she had advised the police to file an appeal in Bombay High Court against the order.
Paraskar filed pre-arrest bail application on July 25, a week after an FIR was registered against him by suburban Malwani police under sections 376(2)(rape by a police officer), 376 C (intercourse by superintendent of jail, remand home, etc) and 354(D) (stalking) of the Indian Penal Code.
The complainant, a 25-year-old model, has alleged that Paraskar, 57, molested and sexually assaulted her on two occasions in December 2013.
According to her, she had met Paraskar first in 2012 when he was additional commissioner of police with regard to a case. Paraskar's lawyer argued that the allegations were false and pointed to the delay in registration of FIR.