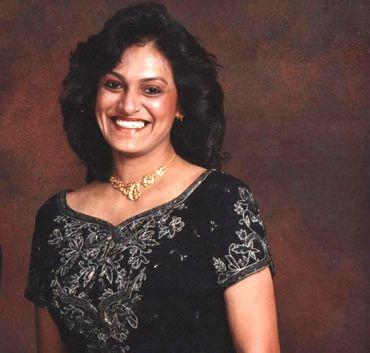 Lyvita Gomes, 52, died on January 3 in Chicago after going on a hunger strike for 15 days to protest her arrest.
In a three-part series, Rediff.com's George Joseph finds out what went wrong for the Mumbai native in the country she migrated to.
Part I: 'Why did Lyvita have to starve to death?'
Part II: 'Nobody deserves this fate'
In the final sergment of the series, George Joseph discovers that India's consulate in Chicago only found out about Lyvita Gomes's death from a newspaper report.
Though her family originally hailed from Goa, Lyvita Gomes had once attended a picnic organised by the Mangalorean Konkan Christian Association in Chicago, said Austin 'Prabhu' D'Souza, who was at the wake service for Gomes. D'Souza said he found her very dignified and well-mannered.
"People from faraway countries came forward with help, while Indian officials kept away," D'Souza rued.
He wrote to the Indian consulate in Chicago on February 1: 'A country where we fight for human rights, a valuable human life was lost due to an unfair treatment by our concerned US officials from Lake County. Yes, we laid Lyvita Gomes to rest today. She is not amongst us to answer any questions. I ask to you that as a caretaker of Indians in the US, did your office take any action or launch any inquiry with concerned officials like Attorney General Lisa Madigan's office? If you did, please let us know. As concerned citizens of India, we want to know what your office did in this incident.'
February 2, N J Gangte, a consul at the Chicago consulate, replied that the consulate found out about Gomes's death on January 18 from a Chicago Tribune report. There was, Gangte wrote, 'no formal intimation from concerned US authorities; nor did any member of the Indian-American community contact the consulate regarding the incarceration of Ms Gomes. The letter received from you was the first from a member of the community.'
'On hearing of the incident, the consulate made efforts to contact the next of kin of the deceased, to which the only contact point given to the consulate was the Lake County coroner's office. The consulate had requested the contact numbers of her friends/relatives if available, so as to render assistance to family members.'
'The consulate general of India fully shares with you the concerns and queries raised in your letter and the embassy of India has written to US authorities seeking full information,' Gangte added.
'I take this opportunity to convey my personal condolences to the family and friends of Ms Lyvita Gomes,' the consul wrote. 'Consulate officials are available to discuss this matter, should members of the community wish to do so.'
In addition to phone calls, this reporter had e-mailed the consulate on January 19 and January 31, which yielded no reply. This reporter spoke to Gomes's brother in Mumbai on January 18 and the report was published first in Rediff.com