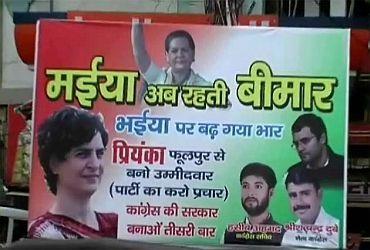 The Congress has decided to crack the whip on those who have been demanding for Priyanka Gandhi's entry into active politics and asking her to contest the 2014 Lok Sabha elections.
Two district leaders from Allahabad in UP, who put up posters asking Priyanka to contest from the Phulpur constituency, have been suspended by Uttar Pradesh Congress Committee Chief Nirmal Khatri.
The poster read: "Maiya ab rahti beemar, bhaiya par badh gaya bhaar, Priyanka Phoolpur se bano ummeedwaar, party ka karo prachaar, Congress ki sarkaar banao teesri baar (Mother is often ill now, brother (Rahul Gandhi) is overburdened, Priyanka become the candidate from Phoolpur and campaign for the party, help the Congress get elected for the third time).
A senior leader said that the punishment was handed down to send a stern message that no attempt to downsize Rahul's leadership would be tolerated at a time when the party is fighting 5 assembly elections and moving in to contest the Lok Sabha polls.

Rahul is not only masterminding the election strategy but is also the party's main campaigner with Sonia Gandhi having moved into the background and not playing as active a role politically as she used to.
While the buzz in the Congress is that while Ajay Maken -- at the behest of Rahul Gandhi -- was quick to deny reports about Priyanka campaigning throughout the country, there is also a serious attempt on within the party to find out whether it was the handiwork of disgruntled senior Congress leaders or the Bharatiya Janata Party to try and minimize Rahul's leadership.
On the face of it, Congress leaders say that the two district leaders have been suspended for referring to Sonia's illness. But it is no secret that she has been travelling abroad for treatment and regular check ups and has also reduced her work burden, handing over most responsibilities to her son.
The party is hopeful that the suspension will have the desired effect and there will be no further demands for bringing Priyanka into active public life, say Congress leaders.

Rahul has emerged as a leader who will not tolerate any nonsense and is also seen as autocratic in his handling of a number of issues related to the party, say senior party leaders.