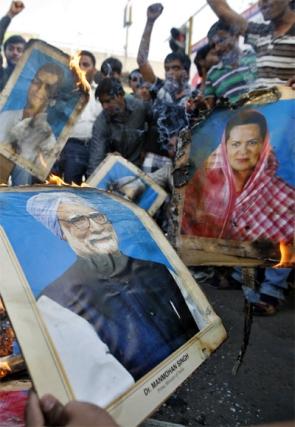 Dismissing the Congress' criticism over its decision to charge Rs 5 for attending Narendra Modi's forthcoming public meeting in Hyderabad, the Bharatiya Janata Party on Tuesday said the ruling party is making allegations as it is unable to digest the growing popularity of the Gujarat chief minister.
"The Congress is rattled by Narendra Modi. They are not able to digest the growing popularity of Narendra Modi. That's why they are making such allegations. They are trying to hit below the belt," senior BJP leader M Venkaiah Naidu told reporters.
"We don't understand why the Congress should object to it. The party took this decision to promote a sense of involvement. The token money is meant for relief efforts in Uttarakhand. If he (Union minister Manish Tewari) says it is a flop show, he can go for flop shows. The Congress show itself is a flop show. The Congress has been running a flop show in this country for the last 50 years," he said.
Naidu was reacting to a comment made by Tewari on the BJP's decision to collect Rs 5 per person for attending the public meeting to be addressed by Modi in Hyderabad on August 11.
BJP's state unit president G Kishan Reddy, who made the official announcement about the public meeting, said the Rs 5 contribution is voluntary and no tickets have been printed.
"For the public meeting, the state unit of BJP has decided to collect Rs 5 for registration from those who can afford to give that amount. That money will be contributed towards relief efforts in Uttarakhand. No tickets have been printed for this. There are no ticket sales," he said.
Those who cannot afford to pay the amount are also welcome to attend Modi's address, he said.