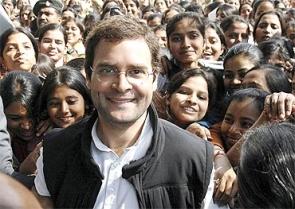 Rubbishing reports of confusion within the Congress on its prime ministerial candidate, External Affairs Minister Salman Khurshid on Saturday said Rahul Gandhi is the party's "consensus leader" and it was up to him to decide about taking on the leadership role in the government.
"There is no confusion at all. I want to make it clear that people make their own observations as per their thinking," he said on being asked why there was confusion in the Congress on projecting Rahul as the prime ministerial candidate.
"We in the Congress have accepted Rahul Gandhi as our leader by consensus. Whenever it is his wish, we will wait for his decision, indication, suggestion or the direction. As far as his leadership is concerned, that has been made clear and there is no chance of any confusion. When we have accepted someone as leader by consensus, then we should move forward as per his directions," he told reporters on board the prime minister's special aircraft while returning from Indonesia.
On Gandhi's recent comment that he foresees a younger government, the senior party leader said, "You should ask Rahul Gandhi. Whenever he says something, he says that after careful thinking. He also said many other things such as his teachers have been his mother and the prime minister. You should also talk about that. If you want more details and clarifications on this, you will meet him here only one day and then you can ask him directly. The party does not need to ask anything on this as it knows what it needs to do. It is the media which keeps asking these questions".
To questions on Narendra Modi, he said the Gujarat chief minister is trying to "blow himself up to a larger-than-life size".
"We need not spend all our time on preparing a strategy to deal with Modi; I will rather let the Bharatiya Janata Party do that," Khurshid emphasised.
According to him, as far as the factual situation is concerned, there are enough people "who are making it clear what is the reality of people in Gujarat, whether it is about malnourishment figures, education etc".
On whether Samajwadi Party or Bahujan Samaj Party would be a better pre-poll ally in Uttar Pradesh, Khurshid said there are neither any formal discussions nor any decisions in this regard.
"A K Antony was asked to look into the issue of pre-poll alliances and that will then be discussed further. We will do whatever our leaders decide on this issue," he said.
When asked about the government returning to power, he claimed that UPA 3 would come to power.
"I am quite confident that we will be back and we will form the government and we will have similar press conferences," he noted.
On who would head the new government if the Congress comes to power, the minister evaded a direct response and said, "It will be headed by the prime minister of UPA 3".