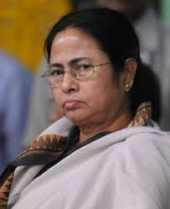 West Bengal Chief Minister Mamata Banerjee on Thursday alleged the Congress was always "badmouthing" the party and claimed that they would become "beggars" after the next year's Lok Sabha elections.
"Congress ministers (from Bengal) are always badmouthing us. They should not forget that today they are ministers only because of our support," Banerjee said.
"Everyone knows that they are going to lose the next Lok Sabha polls and after that will all become beggars," Banerjee claimed at a panchayat election rally in Berhampore, Murshidabad district, considered a stronghold of Minister of state for Railways Adhir Choudhury.
She said that the Trinamool Congress had decided to quit the United Progressive Alliance as it was trying to sell the country by pursuing "anti-people" policies. "They are trying to sell off the entire country by pursuing anti-people policies. They brought FDI in retail, they withdrew subsidy on LPG. It affected the common man. So we decided to withdraw our support," the chief minister said.
"They are taking so much, but we had to pay the Railways for bringing back pilgrims from Uttarakhand. We had to book an entire railway coach," Banerjee said.
Alleging that the opposition Communist Party of India-Marxist ruined the economy of the state in the last 35 years, she claimed, "They have amassed huge fortunes for themselves. You can see that a top CPI-M leader has Rs 16 crore in his bank account. Where did the money come from?"
Without naming the state Election Commission, she said the state government had wanted the panchayat polls to be held either after or before Ramzan, but it was the CPI-M and their "stooges" which wanted it during the Muslim holy month.