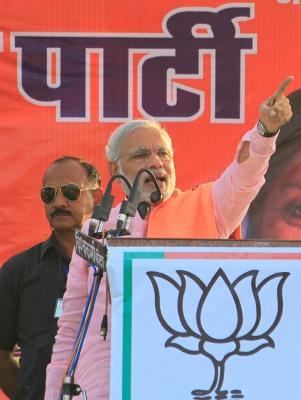 Prime ministerial candidate of Bharatiya Janata Party Narendra Modi at a rally in Rajasthan claimed that his party the only well-wisher of the tribals on Sunday.
The BJP leader said it was the Atal Bihari Vajpayee government which had formed a dedicated ministry for tribals and made provision in budget for their welfare, whereas the Congress sees tribals as mere voters and talks about them only when elections are around.
Modi attended four rallies on Sunday at Rajasthan's Banswara, Chittorgarh, Anta and Kota constituencies.
"To build this country and for our Independence, there is a large contribution of the tribals. And the BJP is their only well-wisher," told Modi the crowd, which had a majority of tribals.
Following that, he immediately got back to attacking the Congress, "And those who think that one family has contributed for the Independence of our country, let me say that they spent more time ruling the country than having spent time in jail."
However, the campaign for the 14th Rajasthan assembly took a murkier twist with the allegation of free medicine being poisonous and then moving on to being personal attacks.
Counteracting the Untied Progressive Alliance Chairperson Sonia Gandhi's remark that poison is in the minds of BJP leaders, Modi alleged that poison is inside the Congress leaders as they have ruled the country for 60 years.
"Madam says power is poisonous, but madam, your party has been in power for 60 years and if power is poison then it is this poison that has filled the stomach your leaders," said Modi.
"The Congress does not consider tribals, Dalits and the suppressed people as humans. For them they are their vote bank," he said.
He also raised the issue of inflation and hinted that all the stalwarts of Congress -- Sonia Gandhi, Prime Minister Manmohan Singh and Congress vice president Rahul Gandhi didn't utter a word on inflation while campaigning in Rajasthan.
"They remain mum on the issue. They have cheated you. They come and take your votes and then raise the cost. You should not forgive them," he said.
The star campaigner of the saffron brigade will be addressing some more rallies on Monday in Rajasthan.
Imagte: Modi in Anta constituency of Bharatpur district
Photograph: Chandra Mohan Aloria