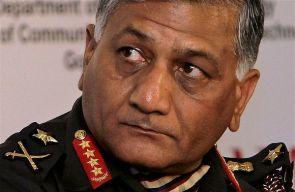 The Congress on Wednesday stepped up attack on Union minister V K Singh, saying his remarks against the army chief-designate were unbecoming of a minister and a former general of the armed forces and demanded that the prime minister "censure" him.
"This is totally unbecoming of a union minister and of course unbecoming of an ex-General because after all our army has been built with such a sincerity, levels of highest standards of discipline and restraint," senior party leader M Veerappa Moily told media persons.
Moily was asked about the comments made by Singh justifying the decision during his tenure as army chief for imposition of a disciplinary ban on Lt-Gen Dalbir Singh Suhag, who has been named as the next army chief.
"If unit kills innocents, does dacoity and then head of organisation tries to protect them, should he not be blamed? Criminals should go free!!," Singh had tweeted.
His remark came after the defence ministry told the Supreme Court in a recent affidavit in a promotion case related to Lt Gen Ravi Dastane that the alleged lapses which were made as grounds to impose disciplinary ban on Suhag by the then army chief V K Singh were "premeditated", "vague" and "illegal".
Moily said that Singh, after becoming a minister, should not indulge in such talk and that the Prime Minister should "censure" him. Latching on to the issue, the Congress had on Tuesday sought the resignation of Singh, saying that the national Democratic Alliance government's affidavit was an expression of "no confidence" in him.
Singh had a running battle with the UPA II government over a controversy on his date of birth when he was in the army.
Singh, who is a now minister of state for development of North Eastern Region, External Affairs and Overseas Indian Affairs, had placed Lt Gen Suhag under a disciplinary and vigilance ban for a botched up military intelligence operation by a unit under him.